About The Institute
The Government Engineering College Jhalawar has been newly established in the year 2007. It is obligatory to set up  and nurture the academic environment in Jhalawar through this Engineering College, now running in its second year, with a pride well supported by Nature in the form of lush greenery, perennial rivers like 'kalisindh' and 'Chandrabhaga'  giving an clarion call to the youths to awaken and step ahead to participate in the area of Engineering and Technology.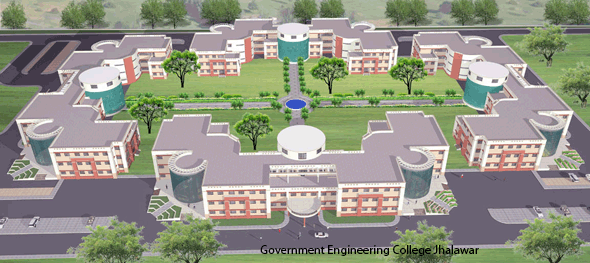 Although, well known for its rich cultural and literary heritage,  geographically situated in the South-East of Rajasthan- surrounded by 'Mukandra' and 'Vindhyachal' mountain ranges, Jhalawar with a basket full of Natural resources awaits speedy educational, scientific and technological development to compete not only the neighboring districts but rest of the Nation to produce the shining products in the sphere of Human Resource Development.   
  The Government Engineering College Jhalawar is affiliated to the Rajasthan Technical University Kota and the courses are duly approved by AICTE New-Delhi.
The college aims to sharpen the skills of the students to equip them to face the growing challenge of our dynamic industry. The college seeks to enable graduates to gain a competitive edge in pursuing technical, managerial and professional careers so that they can make an outstanding contribution to the performance of their employing organizations. The college  is spread in more than 45 acres (75 bighas).