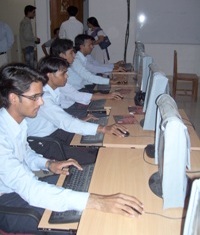 Campus Wide Internet
The whole campus, including classrooms, student hostels, teaching blocks, academic and administrative buildings, are connected to the Internet & Intranet via high-speed Gigabit Ethernet links. Connections within the campus network are via high speed 1Gigabit or Gigabit Ethernet links.
The campus network is also linked to the DELNET Database, a Library network aimed to providing the online access of library network to academic community with high-speed connectivity.
Staff and students enjoy round-the-clock access to the personal computers in the Computer Labs. They can also access the campus network through wireless connections in student hostels, classrooms, in lecture theaters, student canteens, libraries and outdoor areas on campus using their own computing devices.