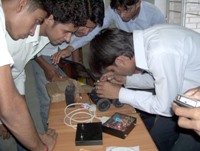 Electronics & Communication Engineering
Significance of Branch
In present era the field of electronics & communication plays an imortant role in almost every sphere of our life. It has penetrated in every field of our existence.It mainly deals with the communication technologies along with the basic electronic components, design of circuits and systems. Electronics and Communication department is established with well-equipped laboratories and research fecilities.These laboratories provide platform for learning not only theory but also practical aspects of elctronics and communication engineering.
Career Opportunities
Electronics & communication Engineering offers scope in the field of research, mobile communication, Microwave communication, robotics, defense, radio communication, TV broadcasting, telegraphy & telephony, VLSI design, DSP, nuclear science, wireless communication and biotechnology.
The Department
The department has modern, well-equipped Laboratories with adequate facilities. The Lab has advance kits like Digital Trainer, A/D & D/A converters, Digital storage CRO,Microprocssor kits with EPROM programming fecility, Speech transmission by AM. The lab has practical CMOS-TTL interfacing kit & multiviberators along with the basic kits like encoders, multiplexers, counter & shift register to fulfill the requirements for performing lab experiments.
Vision
Enabling young engineers to be an excellent professional by imparting strong technical education and employability skill.
Mission
1. To provide excellence in technical and professional education in electronics engineering through MOOCs, software learning etc.
2. To inculcate a sense of ethics and social responsibility amongst students.
3. To motivate faculties and students to participate in conferences, FDP to increase research competence in the department.
4. To encourage entrepreneurship skills among students through inter-institutional networking, awareness camps etc.